The 12 Days of Tour Stops: Day 5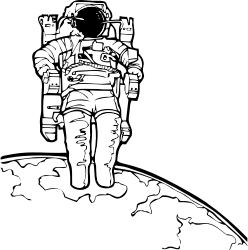 Well done and huzzah, Stephen Bright!  The first word spoken on the moon was "Houston." (Well, sorta. If you want to get technical, these guys are here to straighten everyone out.)  Houston is also home to the first domed stadium in the country, and is the the fourth largest city in the US (and the largest in the state). We've never been to Houston, but we hear great things – what amazing food places do we need to check out, guys? Let us know!
Ready for Day 5? Of course you are!
On the fifth day of tour stops my publicist gave to me,
Four hundred and forty-six bridgessss!
The first word spoken on the moon [Houston]
An original (American) Irish coffee [San Francisco]
A giant copper acorn [Raleigh]
And the country's first revolving eateryyy! [Seattle]
GO GO GADGET GUESS!
heart,
Liz