The 12 Days of Tour Stops: Day 4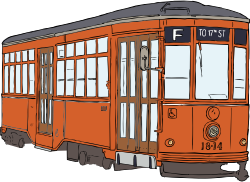 Congrats, Emily Hanhan — you sure know your stuff!  The first Irish coffee in the US (modeled after a drink from Shannon International Airport, in Actual Ireland) was served at San Francisco's Buena Vista café in 1952.  San Francisco is also known for having been the center of the California Gold Rush, its famous sourdough bread, cool streetcars, and about 9 million other awesome things. Plus, our buddy Molly lives there now!  Hooray! We'll be — get this — teaching a class at our alma mater, ICC (formerly FCI) on Friday October 19th; and signing books at the Ferry Building location of Book Passage at 1pm on Sunday October 21st. Be there or be…well, somewhere else, I guess. But we hope you'll be there!
Anyway, on to Day 4.
On the fourth day of tour stops my publicist gave to me,
The first word spoken on the moon
An original (American) Irish coffee [San Francisco]
A giant copper acorn [Raleigh]
And the country's first revolving eateryyy! [Seattle]
You know the drill!
heart,
Liz